Banana Pi (Limited Quantities) [0109-L]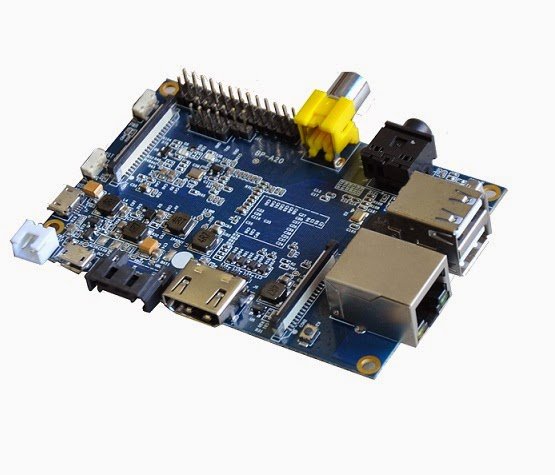 Banana Pi (Limited Quantities) [0109-L]
Power Banana Pi via 2x13 Header


Limited Quantities!

The Banana Pi is an inexpensive, versatile board for those looking to get the most out of their money, or just looking for a board with as many features as possible. With features such as IR capability, a built-in mic and SATA port, you're sure to find the Banana Pi a useful SBC for all of your computing needs!
The Banana Pi is great for things such as a simple file-server, a set-top TV box, or even basic web/email browsing, as well as more complex activities such as development.
KEY FEATURES
SoC: Allwinner A20 (ARM Cortex-A7 dual-core, 1GHz, Maili400MP2 GPU)




Memory: 1GB DDR3 DRAM




Storage: Boots from SD card slot, expandable storage via SATA




Video Output: HDMI, Composite




Audio I/O: Onboard microphone, 3.5mm stereo out, HDMI out




Connectivity: Gigabit Ethernet




USB Ports: 2x USB 2.0, 1x micro-USB (OTG Capable), 1x micro-USB (for power)




Misc.: 26-pin headers, camera connecter, display connector for LVDS/touchscreen, 3x buttons (Power, Reset, Uboot)




Dimensions + Weight: 92mm x 60mm, 48g




OS: Ubuntu, Debian, Raspbian, Kali, Scratch, etc.
SD Card (required to boot)
micro-USB power supply (required to boot)
HDMI/Composite Video Cable (required for video output, not required if run headless)
Case (optional)
None yet, check back later!