Creality CR-10 FDM 3D Printer (~12x12x15in. Build Volume) [0255-CR]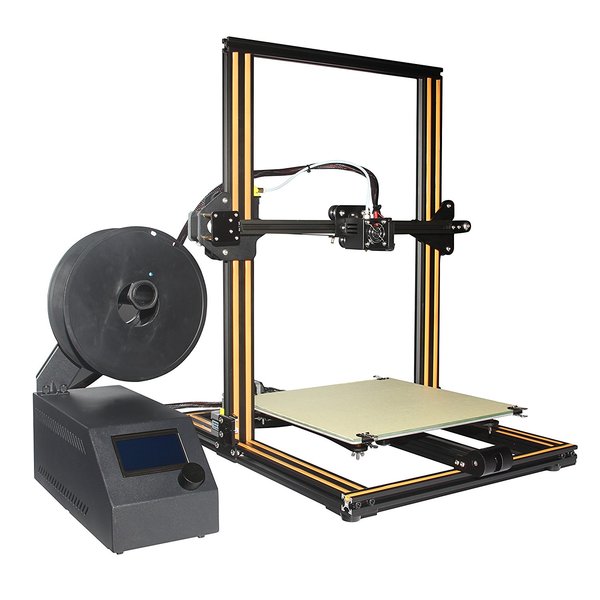 Creality CR-10 FDM 3D Printer (~12x12x15in. Build Volume) [0255-CR]
Phenomenal price on a phenomenal 3D printer!
Here at ameriDroid, we're big fans of 3D design and printing. We've used a variety of machines in the past few years from sub-$500 to $2000+ prosumer machines in our 3D build farm. This Creality CR-10 hangs in there with the best of them, but at a fraction of the price.
KEY FEATURES
FDM (Fused Deposition Modeling) printing in PLA / ABS / TPU and others

LCD screen and keypad on power supply unit for offline printing using built-in SD card reader
300 x 300 x 398mm (11.8 x 11.8 x 15.6 in.) build volume
Easy assembly and adjustment
Enhanced stability and reliability insures accurate prints
Max extruder temp 270C (250C +/- under normal operation)
Extruder diameter: 0.4mm (MK10 nozzle)
Max print speed: 80mm / sec.
Supported file formats: gcode, jpg, obj, stl
Industrial-grade circuit board
NOTES
Assembly instructions and other helpful files are included on a microSD card, and a microSD card to USB reader is also included for convenience.

Out of the box, the max bed temp with a DIY underbed insulation layer is between 95-100C. The is more than sufficient to print PLA plastic.
To print ABS plastic on Kapton with good success, we recommend a bed temp of 110C or higher. The voltage of the CR-10 can easily be increased by adjusting the voltage potentiometer on the control unit. We find that a setting of 14V allows us to operate the bed at 110C+ indefinitely at room temperature. Other users have maxed out the voltage pot at 14.6V with no reported problems. This does allow higher temperatures and quicker warm-up times, but may void your warranty.
Accurate bed levelling is vital to proper adhesion of the print to the build platform. Make sure to take time to dial-in the bed level.
Two CR-10 groups are currently available on Facebook, and are the best place to go for assistance with printing questions and problems.