ODROID-U3 (New Overstock) [0001-EN]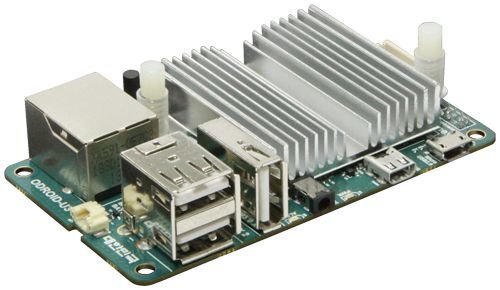 ODROID-U3 (New Overstock) [0001-EN]
Brand new overstock units!
KEY FEATURES

Powerful Linux/Android Computer



1.7GHz quad-core CPU, quad-core GPU, 2GB RAM
10/100Mbps Ethernet with RJ-45 LAN jack
3 x high speed USB2.0 host ports
Audio codec with headphone jack on board
GPIO/UART/I2C ports
Ubuntu 13.10 or Android 4.x, plus many others available
Size: 83 x 48 mm, Weight: 48g (including heat sink)
Package includes main board and heat sink
NOT INCLUDED
No power supply included

- Consider an ODROID 5VDC/2A power supply or an ODROID Smart Power supply, both available on this site

No microSD or eMMC card included

- eMMC memory is much faster than microSD memory




No case included
RECOMMENDED ACCESSORIES
NOTES
Samsung has increased the price of the Exynos SoC as of January 2015. Therefore, the price of the U3 has been increased to compensate. We apologize for the inconvenience.

DISCUSS