ODROID-W Development Kit --- (OUT OF PRODUCTION) [0100]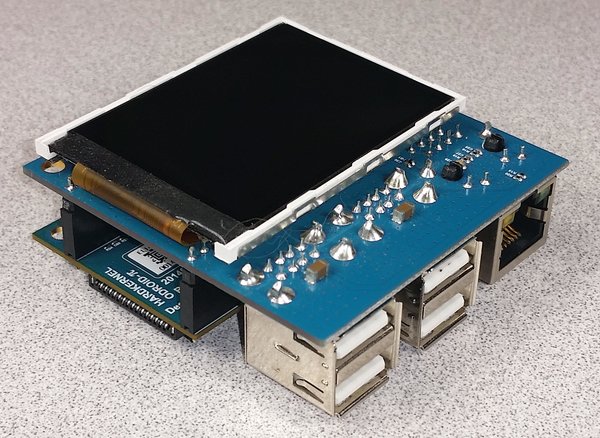 ODROID-W Development Kit --- (OUT OF PRODUCTION) [0100]
The ODROID-W DEVELOPMENT KIT is no longer in production. Please consider the ODROID-XU4 or the ODROID-C1+ instead.
These amazing kits come complete with nearly everything you need to make a wearable or portable computing device with a display.
INCLUDES
ODROID-W




W Docking Board with 2.2" TFT LCD




8GB MicroSD preloaded with Linux configured for the LCD

USB to 2.5mm Power Cable
ameriDroid.com is liquidating the remainder of Hardkernel's ODROID-W stock by supplying these great kits at an incredible price (50% OFF the regular price). These kits are supplied as-is*.
* As-Is Product: New components and guaranteed tested and working when they leave our facility, but the rest is up to you. No official support provided, no warranty, and no returns (community support available through ODROID Forum).
What will you make with yours?
Here are a few ideas:

Techno-clock (see video)
Smart watch
Portable retro-gaming system
Bicycle computer with MP3 music player
Desktop robot
Network monitor
Photo slideshow device
Personal cloud storage device
Status monitor
Micro oscilloscope
Bedside alarm clock/mp3 player
IP Surveillance camera
KEY FEATURES
Complete ODROID-W system (Raspberry Pi compatible)
4 USB 2.0 ports
1 USB 2.0 header on ODROID-W (can only be used when not installed on LCD docking board)
10/100 Ethernet port
Micro HDMI port (on ODROID-W)
3.5mm audio jack
UART port
Micro USB power port (on ODROID-W)
2.5mm 5V/2A power connector
Real-time clock (RTC) on-board (backup battery optional)
Camera connector via CSI interface (for Raspberry Pi camera module)
Battery port (to power the entire unit with an optional battery)
Power switch
2.3" (60mm) 320x240 color LCD display (via SPI interface)
13x2 26-pin GPIO connector pads
8GB Micro SD card preloaded with Debian Linux optimized for the LCD display
eMMC port (for additional storage)
USB to 2.5mm DC plug cable included
60 x 60 x 24 mm assembled