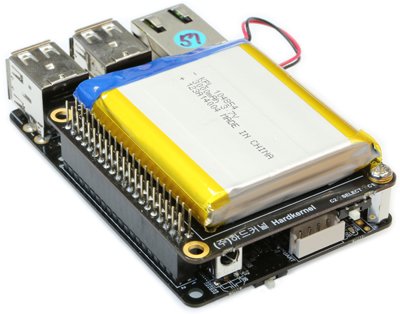 UPS3-C1/C2 [0094A]
UPS2-C1 power IC hacking

UPS2-C1 project


Shipping now!
Uninterruptible power supply (and battery backup) designed specifically for the ODROID-C1/C1+/C2, and compatible with similar SBCs like Raspberry Pi and the Banana Series.
An Uninterruptible Power Supply is an electrical apparatus that provides emergency power to a load when the input power source, typically mains power, fails. The on-battery runtime of most uninterruptible power sources is relatively short, but in this case it is more than sufficient to start a standby power source or properly shut down the SBC. In our tests under a standard load, battery power was sufficient to keep the system running for approximately 90 minutes. Your results may vary.

It is equipped with a rechargeable 3,000mAh Lithium Polymer battery and a charging circuit with a booster IC for 5V output.

When the AC power source fails, the UPS3 keeps supplying the power to the SBC with the battery. There is a digital output pin to inform the SBC of a battery low-level warning which can trigger the shutdown process. Once the AC power source resumes, the UPS3 will supply power to the SBC again automatically.

KEY FEATURES
Installation Guide: http://odroid.com/dokuwiki/doku.php?id=en:odroid-ups3

LiPo Battery (3000 mAh)
Power switch to turn off 5V output to SBC
2.5A single-cell switching charger with power path
2.4A system boost current
Allows clean shutdown or continual operation when main power is unavailable
INCLUDES
LiPo Battery
Circuit Board
Spacers
Connector Wires
NOTES
ODROID-C1/C1+/C2 not included
Some assembly required
Systems without a 2.5mm barrel connector will need to replace the 2.5mm power cable with a microUSB or other compatible power connector - an easy soldering task for most users.
5V/2A power supply not included
SPECIFICATIONS
Power Input

Dc Input Voltage
DC 4.8~ 5.4V
DC Input Current
2 A Maximum


Charger

Charging Time
1hour 30min ~ 2 hours
Battery Charging Current
2 A

Power Ouput

DC Output Current
Max 2 A
DC Output Voltage
5 V

Integrated Battery

Type
LiPo
Capacity
3000 mAh
Nominal Voltage
3.7 V
Battery Life
400 charge/discharge cycles @ 20℃±5℃
Integated Protection
Overcharge/discharge PCB

ODROID-C1

+/C2 Estimated Running Time (typical load of 300mA @ 5V)
about 2-4 hours with full battery charge

LINKS