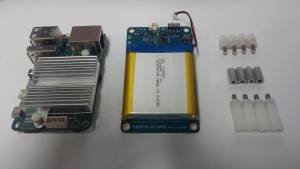 UPS2-U3 [0093]
Uninterruptible power supply (and battery backup) designed specifically for the ODROID-U3.
An Uninterruptible Power Supply is an electrical apparatus that provides emergency power to a load when the input power source, typically mains power, fails. The on-battery runtime of most uninterruptible power sources is relatively short, but in this case it is more than sufficient to start a standby power source or properly shut down the ODROID-U3.

It is equipped with a rechargeable 3,000mAh Lithium Polymer battery and a charging circuit with a booster IC for 5V output.

When the AC power source fails, the UPS2 keeps supplying the power to the ODROID-U3 with the battery. There is a digital output pin to inform the ODROID-U3 of a battery low-level warning which can trigger the shutdown process. Once the AC power source resumes, the UPS2 will supply power to the ODROID-U3 again automatically.

KEY FEATURES
INCLUDES
LiPo Battery
Circuit Board
Spacers
NOTES
ODROID-U3 not included
Some assembly required
5V/2A power supply not included
SPECIFICATIONS
Power Input
Dc Input Voltage
DC 4.8~ 5.4V
DC Input Current
Over 2 A
Charger
Charging Time
1hour 30min ~ 2 hours
Battery Charging Current
2 A
Power Ouput
DC Output Current
Max 2 A
DC Output Voltage
5 V
Integrated Battery
Type
LiPo
Capacity
3000 mAh
Nominal Voltage
3.7 V
Battery Life
400 charge/discharge cycles @ 20℃±5℃
Integated Protection
Overcharge/discharge PCB

ODROID-

U3 Estimated Running Time (typical load of 300mA @ 5V)
about 4 hours with full battery charge
LINKS