Use the "Contact Us" link to send us your project details, and you could see it here!
---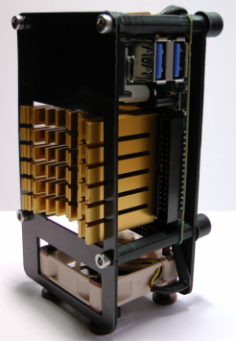 I liked the paper case and the water cooled system that were presented here and in Odroid Magazine in the recent past. They were both great examples, one of minimalist design and the other of maximum design possibilities. They both inspired me to pursue a design I had in mind, something more practical for my application. A split air flow configuration using a single fan to cool both sides of the PCB. The majority of the airflow would be on the heat sink but some would also go under the bottom of the board. A system wide cooling approach of continuous airflow. Along with some system tuning, and as quiet as the Noctua fan is, I plan on running the fan continuously starting at 25% and upping the rpm quickly to maintain minimal temperatures across a varying spectrum of uses.
Read more here: http://forum.odroid.com/viewtopic.php?f=97&t=26373
By user "hominoid" on http://forum.odroid.com
---
I have rebuilt my web hosting core with XU4's and a C1 and a new C2 I just ordered. A 3 server, load balanced and reverse proxied system that I'm hosting over 10 clients on and offering a local radio station streaming with icecast on. Everything is secure and working like a charm. I love my ODROIDs. All the serving power at 1/10th the actual power requirements. Next step for me is to run the whole thing off solar and batteries.
Jeff McDaniel
---