CloudShell for XU4 (Smoky White) ***DISCONTINUED*** [0136]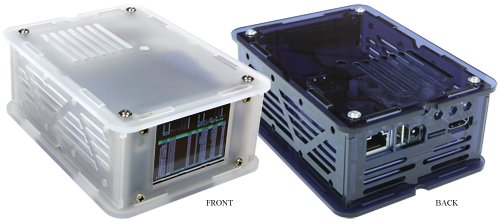 CloudShell for XU4 (Smoky White) ***DISCONTINUED*** [0136]
The Cloudshell for XU4 is an affordable DIY Network Attached Storage (NAS) Solution to create your own personal cloud! It includes a color LCD console display on the front and has room for a 2.5inch HDD/SSD along with the XU4 board inside the CloudShell.

The CloudShell is a great way to assemble the ODROID-XU4 in a compact case along with a 2.2" TFT LCD (320x240), a 2.5" hard drive, and an IR receiver. It contains a USB3.0 to SATA bridge (Genesis GL3321G) allowing installation of a single 2.5" SATA HDD/SDD.

KEY FEATURES

Allows housing an XU4 and 2.5" SATA Hard Drive in a single case
Great for cloud and other server applications!
Dimensions: 47 x 25 x 21 mm (assembled)
Weight: ~248g
Color: Smoky White
INCLUDES

CloudShell Case
CloudShell Circuit Board
IR receiver
2.2" 320 x 240 TFT LCD
SATA Connector
USB3.0 Connector
30-pin I/O Connector
NOTES
If selecting the optional fans, a suitable source of power for those fans will need to be located and utilized.