ODROID-C1 (Recertified) [0164-U]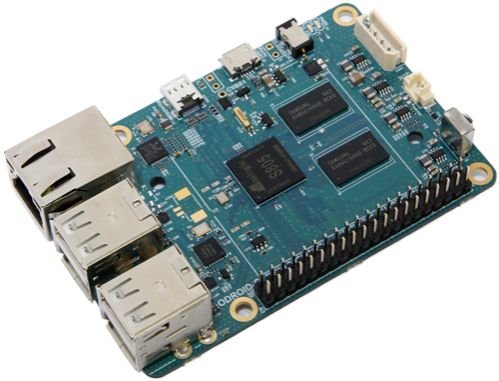 ODROID-C1 (Recertified) [0164-U]
ODROID-C1 and C1+ Getting Started


OS Download & Installation Tutorial


ODROID-C1 vs Raspberry
Pi 2 Video Playback


ODROID-C1, Raspberry Pi 2,
Hummingboard and MIPS CI20
comparison
ODROID-C1 Wins!


OpenELEC Media Center on C1

We have a limited number of original ODROID-C1 recertified units in stock. Each one has been fully tested and certified.
The original ODROID-C1 is no longer in production. The current model is the ODROID-C1+.
Additional items required to operate - see "NOT INCLUDED" section below

Amazing price! Amazing performance!
Why settle for a lower specification single-board computer? For the same price, get a quad-core CPU + dual-core GPU + 1GB DDR3 RAM + Gigabit Ethernet + 4x USB2.0 ports + infrared receiver + more!
The C1 makes the perfect single-board computer for general purpose computing, software development and projects. The ODROID-C1 gives loads of satisfaction and fun with incredible performance at a tiny price.
Check out the December 2014 issue of ODROID Magazine for all the details of this great board.
KEY FEATURES

Powerful Linux/Android Computer

1.5GHz quad-core CPU, dual-core GPU, 1GB RAM

10/100/1000Mbps Ethernet with RJ-45 LAN jack

4 x high speed USB2.0 host ports

40 GPIO pins (quasi-Raspberry Pi compatible -

pins 37, 38, and 40 are not compatible with the Pi B+ as they are dedicated for analog inputs

)


Linux or Android available

Size: 85 x 56 x 18 mm, Weight: 40g

Package includes main board
NOT INCLUDED

No power supply included - Consider an ODROID 5VDC/2A power supply or an ODROID Smart Power supply, both available on this site

No microSD or eMMC card included - eMMC memory is much faster than microSD memory


No case included

No HDMI cable included - needed to connect to a display device

RECOMMENDED ACCESSORIES
DISCUSS