ODROID-MC1 Cluster (32 CPU Cores / 8GB DRAM) [0109A]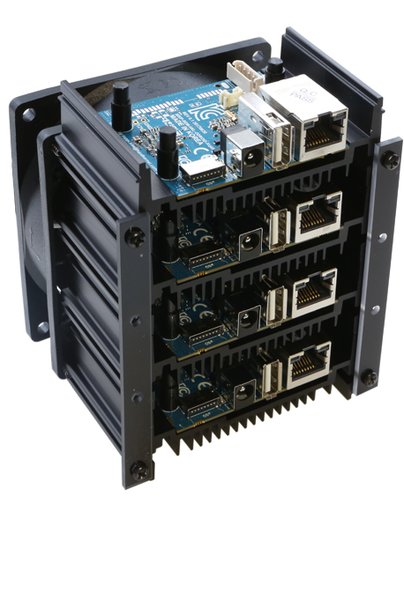 ODROID-MC1 Cluster (32 CPU Cores / 8GB DRAM) [0109A]
The ODROID-MC1 is a cluster of embedded computing designed to be used as an affordable and flexible solution for cluster computing. The MC1 provides combined resources of 32 CPU cores, 8GB DRAM, 4x Gigabit Ethernet connections, 4 USB2.0 ports, and 4 UART serial ports in a stacked array complete with integrated heatsink and 80mm cooling fan.
The MC1 can easily run Samba, FTP, NFS, SSH, webservers, SQL, Docker, WordPress and other server software smoothly with full Linux distributions like Ubuntu, Debian, Arch and OMV.

Although each MC1 node is related to the ODROID-XU4, all less-necessary features for this use case have been removed from the original ODROID-XU4 including the HDMI and eMMC connectors, external USB3.0 ports, power button, and boot selector switch. The specifications for ODROID-MC1 kit are listed below.

KEY FEATURES
Samsung Exynos5422 Cortex™-A15 2Ghz and Cortex™-A7 Octa core CPUs (multiplied by 4)
2GB LPDDR3 RAM PoP stacked (multiplied by 4)
1 x USB 2.0 Host (multiplied by 4)
Gigabit Ethernet port (multiplied by 4)
MicroSD UHS-1 Slot tested to 128GB capacities for boot media (multiplied by 4)
Serial UART header (multiplied by 4)
Integrated metal frame acting as a passive heatsink with included 80mm cooling fan

Operating temperature range: approx. -10C to +45C




Fully software compatible with ODROID-XU4, XU3 and XU3-Lite



Low cost, small form factor, high performance!
Linux server OS images based on modern Kernel 4.9 and 4.14 LTS

PCB Dimensions: 56 x 47 mm each (2.20 x 1.85 in. approx. not including heatsink/tray)
Case Dimensions: 112 x 93 x 72 mm (4.4 x 3.7 x 2.8 in.)
INCLUDES
ODROID-MC1 Board (multiplied by 4)
Aluminum Stackable Mounting Frame/Heatsink (multiplied by 4)
80mm USB-powered fan
REQUIRES
microSD module to contain the operating system (multiplied by 4)
Compatible power supply (multiplied by 4)
RECOMMENDED

5V/4A power supply with 5.5mm/2.1mm barrel, center positive and outer negative (multiplied by 4)
NOTES
No HDMI/display port as this is designed as a headless server
Guaranteed production to the middle of 2020, but production expected to significantly exceed that date
Power consumption normally in the 4A-8A range, but can approach 16A during heavy computing loads with USB devices attached
If connecting an HDD externally through the USB port, consider using the 5V/6A power supply
USE CASES
Docker Swarm


The most tedious part in setting up any cluster is installation of OS and software packages needed for running and managing the software on each compute node.
To expedite the process, a microSD card image with everything mostly configured is available at https://oph.mdrjr.net/MrDreamBot/
The microSD image logins are 'root' and 'odroid', and the default password for both logins is 'odroid'. The image assumes 1 master and 3 worker nodes.
Read the ODROID Magazine article on getting started with this project.
Build and Compile Farm


Set up the MC1 cluster to compile computer programs remotely.
Read the Wiki Article for an example of creating a Build and Compile Farm
JAVA Parallel Programming


Set up the MC1 as an environment ready for experimenting with 

MPJ Express

, a reference implementation of the mpiJava 1.2 API.
Read the ODROID Magazine Article to get started
PXE Remote Booting Setup


Set up the MC1 cluster to use the PXE environment for server and clients. Although the network file system is used for the root filesystem, the ramdisk is also useful if the image size of the root filesystem is compact.
Read the Wiki Article to get started