VU7 Front Bezel (3D Printed) [0212-A]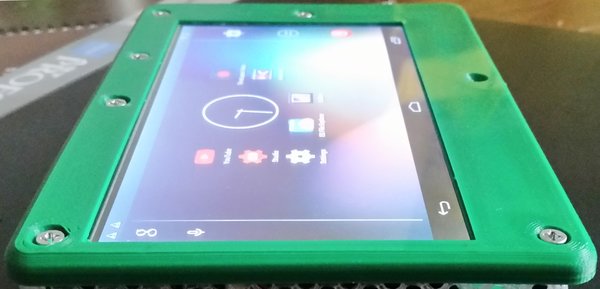 VU7 Front Bezel (3D Printed) [0212-A]
Get a great deal on one of our front bezels for the VU7.
Available in "Better Quality" or with "Slight Defects" at a bargain.

When we print complete tablet cases for the VU7, we know that no case will turn out perfectly - that's the nature of 3D printing. But sometimes, there are more noticeable defects. That's where the "Slight Defects" front bezels come in. They work great for holding the VU7 and protecting the screen, but they have a few surface defects that caused us to set them aside.
Now, you can pick up these "Slight Defects" front bezels at a great deal. But quantities and colors are limited. ONLY BLACK CURRENTLY AVAILABLE unless selecting "Better Quality" above.
If you'd like one of our better quality front bezels, we'll print one for you in any color you'd like for $5.00 extra. Select "Better Quality" from the selection box above for this option. Note: 3D printing is not a perfect manufacturing process. Some minor defects may be visible even on "Better Quality" cases, but they will look about as nice as the bezel pictured above.
Interesting Fact: Each front bezel takes close to 3 hours to print on our higher speed printer!

KEY FEATURES
Fits the ODROID-VU7 touchscreen
ABS or PLA Plastic
3D printed on high-end enthusiast 3D printers at a resolution of 0.25mm layer height or better - each unit is printed individually, and as such may have imperfections.
Includes front bezel only.

This is a DIY (Do-It-Yourself) kit - some modifications and finishing touches may need to be performed.
Does not include screws or other hardware.