ODROID-M1S: A New Standard in Embedded Systems
ODROID, a pioneer in single-board computing, proudly launched the ODROID-M1 about 20 months ago, catering to a diverse clientele in both B2B and B2C sectors. Drawing from invaluable user feedback, which sought a more competitive price, increased GPIO ports, lower power consumption, a sleeker form factor, and enhanced practical peripherals, ODROID is excited to unveil the ODROID-M1S.
Developed over the past six months to address market demands, the ODROID-M1S stands out with a 20% reduction in thickness, a 20% decrease in
power consumption, and the integration of a built-in 64GB eMMC chip on the board. Priced starting at only $61.95, which includes a case, heatsink, and power adapter, this advancement is poised to significantly lower the costs associated with building affordable and sustainable embedded systems. Underlining ODROID's commitment to longevity, especially for industrial applications, the company pledges to supply this product until at least 2036.
The ODROID-M1S leverages 3D modeling from the early PCB design stage, enabling precise and swift case development. This project is a testament to seamless collaboration between circuit design and mechanical design, leaving an indelible mark on ODROID's innovative journey.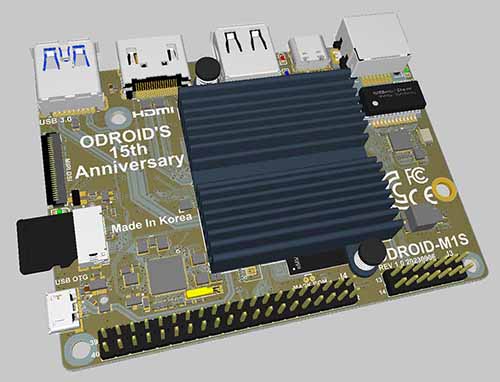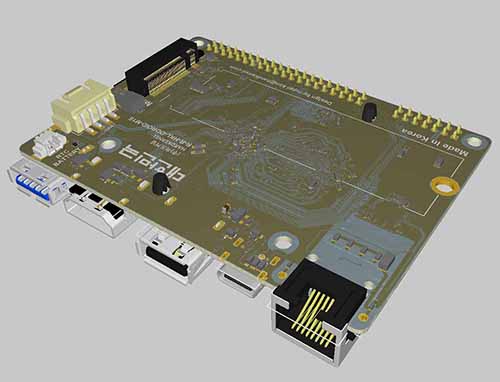 Specifications
Form Factor:

Board Dimensions: 90mm x 65mm x 16mm
Weight: 52g (including heatsink)

Processor:

Rockchip RK3566 Processor
Quad-Core Cortex-A55 (1.8GHz)
Mali-G52 MP2 GPU with 4 x Execution Engines (800Mhz)

NPU:

0.8 TOPS@INT8, Integrated AI accelerator RKNN NPU

Memory:

LPDDR4 4 or 8GiB with 32-bit bus width
Data rate: 2112 MT/s, up to 1,055MHz

Storage:

1 x 64GB eMMC embedded
1 x Micro SD slot (UHS-I SDR104)
1 x NVME M.2 SSD (PCIe 2.1 x 1 lane)

Networking:

1 x GbE LAN ports (RJ45, supports 10/100/1000 Mbps)
Realtek RTL8211F Ethernet transceiver

Video:

1 x HDMI 2.0 (up to 4K@60Hz with HDR, EDID)
1 x MIPI DSI Interface

External I/O:

1 x USB 2.0 host port
1 x USB 3.0 host port
1 x USB 2.0 micro OTG port
1 x Debug serial console (UART)
1 x 40 pin GPIO and 1 x 14 pin GPIO

Power:

1 x USB Type C for Power only
DC input: 4.9V ~ 5.3V
Software Support
Android 11
AOSP based on Rockchip BSP
Ubuntu 20.04 LTS Kernel 5.10.160
Ubuntu 22.04 LTS Kernel 6.1.60
Features and Benchmarks
The ODROID-M1S, powered by the RK3566 CPU, boasts software compatibility with the RK3568, allowing for efficient reuse of software development. The board introduces on-board eMMC storage, providing a 64GB capacity, and an M.2 NVMe slot for expanded storage options.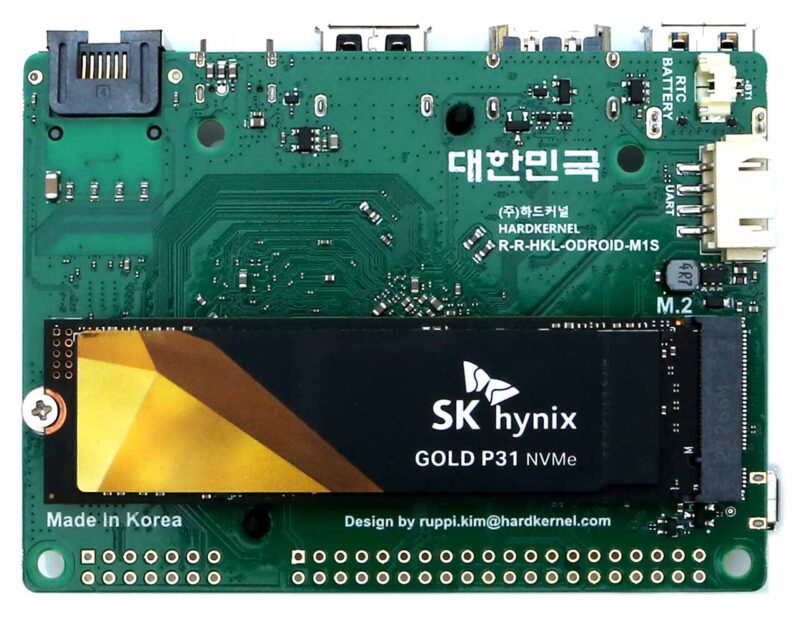 Power Consumption:
With Ethernet and HDMI monitor connected: ≈ 3.7 Watts (peak during booting), drops to 1.5 Watts in desktop GUI idle state.
Headless system (without HDMI monitor): Drops to near 1.0 Watt in idle mode.
CPU stress test without HDMI output or Ethernet connection: ≈ 3.2 Watts, showing energy savings of about 25% compared to ODROID-M1.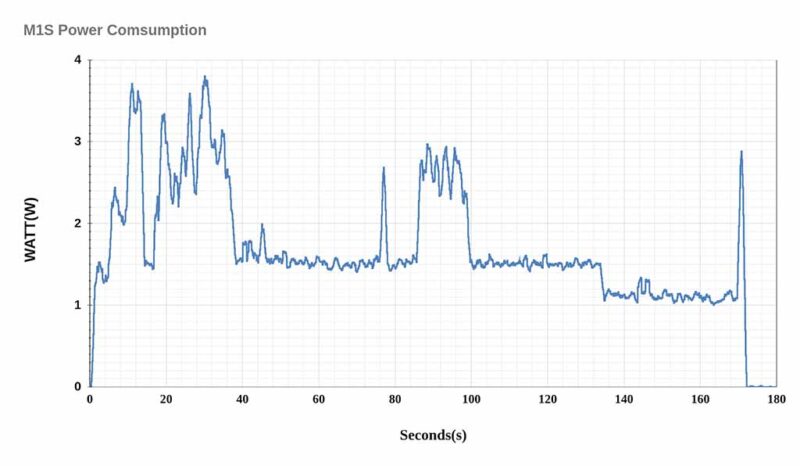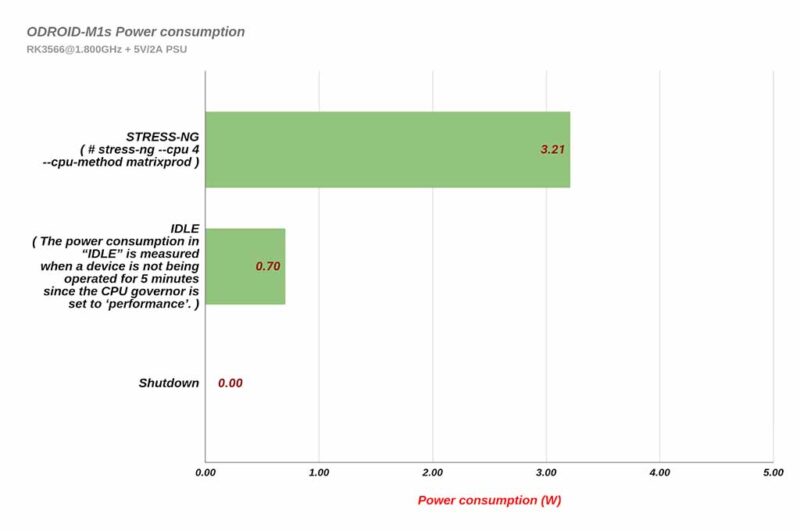 Thermal Characteristics:
No thermal throttling during a CPU stress test, even when mounted in a case.
CPU temperature does not exceed 65°C under room temperature conditions of 25°C.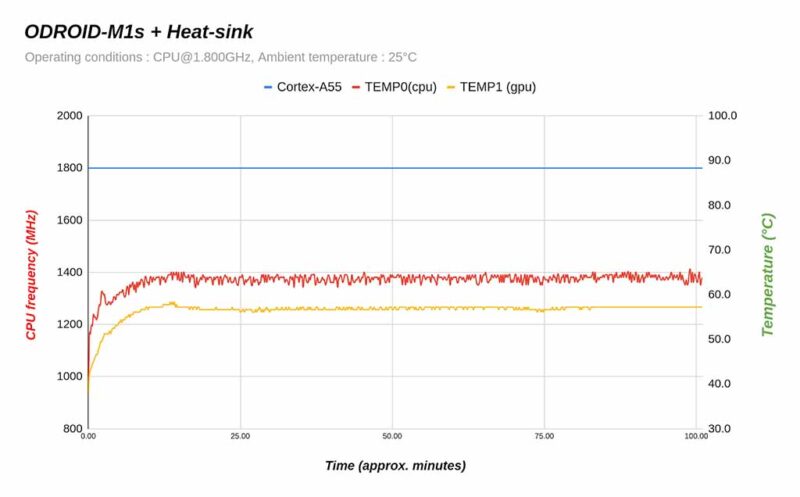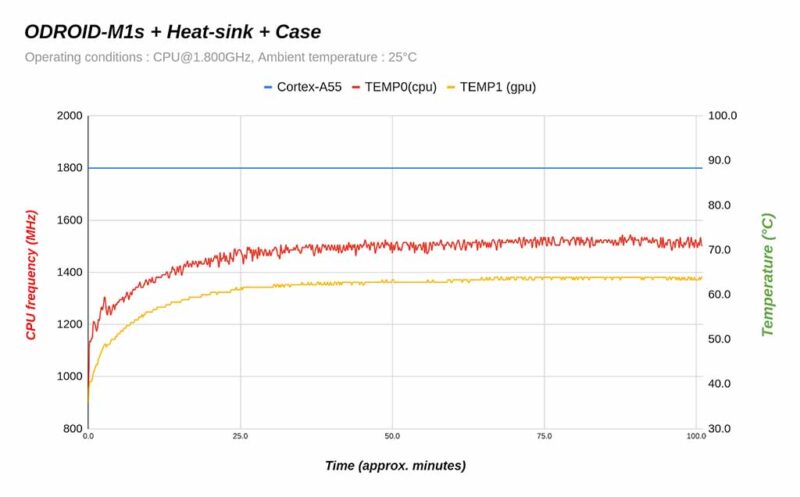 The ODROID-M1S, a true leap forward in embedded systems, combines performance, energy efficiency, and storage versatility. Visit ODROID-M1S for detailed specifications and to explore the future of single-board computing.