ODROID-VU7C 7inch 1024×600 HDMI display with multi-touch
Add a display on an ODROID-C4 without any cable by plugging it into the 40pin female header on the back of ODROID-VU7C, and connect the HDMI port on C4 to the one on the VU7C using a HDMI link board. You need a type A-A HDMI cable to use it with an N2+.
The VU7C is designed to extend the IO ports on the C4 and N2+ while using the display. The 7pin header on VU7C is for I2S. Add a Boom Bonnet kit using 7pin cable. The 5pin header on VU7C is for I2C. An RTC Shield is ready to use.
KEY FEATURES

7-inch TFT-LCD

1024(H) x 3(RGB) x 600(V) pixels hardware resolution

Screen Dimensions : 164.9(W) x 100.0(H)

Viewable screen size : 154.21 x 85.92 mm (active area)

5 finger capacitive touch input

Power consumption : 2.4W ± 10% (50% duty cycle) / 4.2W ± 10% (100% duty cycle)

7 Pin Header for I2S / 5 Pin Header for I2C

INCLUDES
Fully assembled 7inch display
3 x 3.5mm screws
3 x Hex nuts
HDMI link board (HDMI Coupler)
Diagram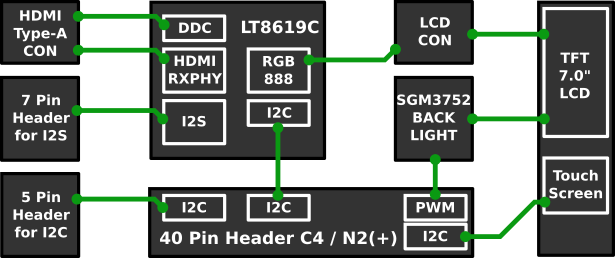 Dimensions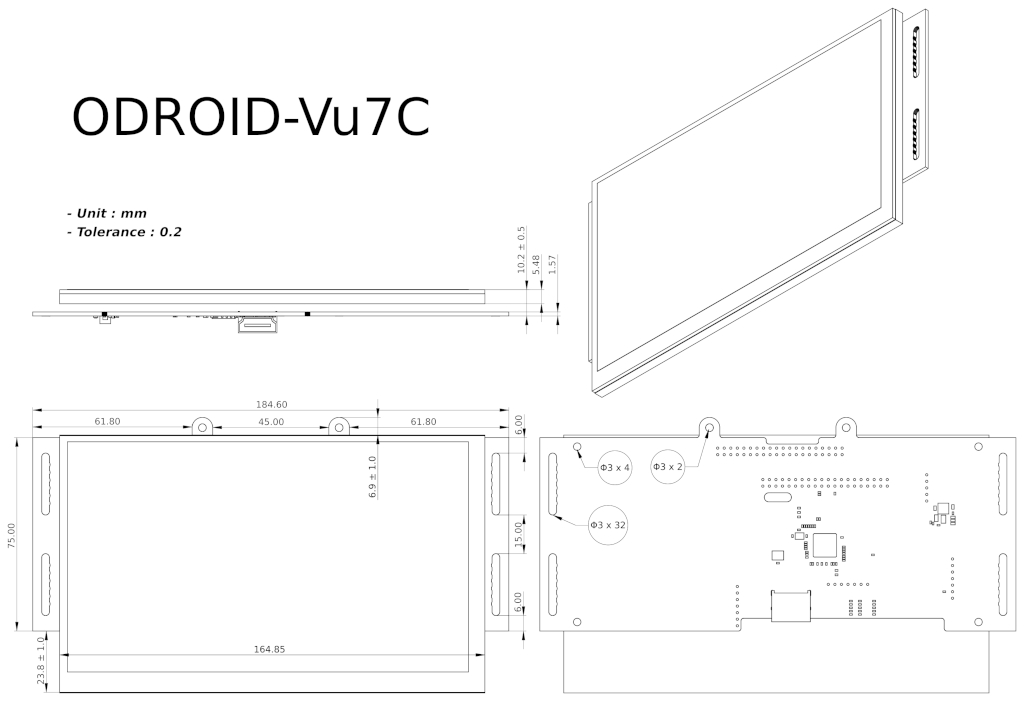 LINKS

Warranty is valid for two weeks, starting upon date of receipt.