USB Mini Microphone [0144-D]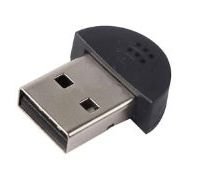 USB Mini Microphone [0144-D]
Tiny USB Microphone for your Single Board Computer, laptop or desktop!
KEY FEATURES
Advanced digital USB provides superior clarity with the simplicity of a single USB plug & play connection.
Noise-cancelling microphone filters out unwanted background noise.
Power light illuminates when microphone is active.
Microphone can pivot for directional pickup.
Sensitivity: -67 dBV/pBar, -47 dBV/Pascal +/-4dB
Frequency Response: 100Hz - 16kHz
Systems with only a microUSB port available will need a USB OTG adapter cable to use this item.