VoCore2 - Linux SBC with WiFi [0247-V]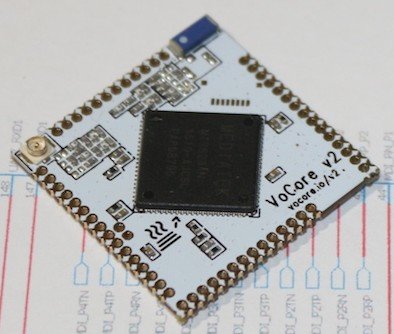 VoCore2 - Linux SBC with WiFi [0247-V]
Shipping Now!
VoCore2 is a tiny single-board computer. Use it for all types of projects where tiny size, inexpensive cost and built-in WiFi are important. The VoCore2 is open hardware which runs Linux and has WiFi, USB, UART, 20+ GPIOs and more. One inch square!
The VoCore2 can be used as a super tiny WiFi router!
VoCore2 is a new revision of the original VoCore v1.0, making it faster and more stable without increasing the size!

KEY FEATURES
One-inch square
Built-in WiFi, 802.11n, 2T2R, speed up to 300Mbps

Built-in Antenna, U.FL slot

CPU: MT7628AN, 580MHz, MIPS 24K
Memory: 128MB DDR2 @ 166MHz
Storage: 16MB NOR on board, supports up to 2TB SDXC cards
Ethernet: 1 port / 5 ports, up to 100Mbps
USB 2.0 port
PCIe 1.1 supported

UART x3 (UART2 for debug console)

GPIO Pins: >= 40 (pinmux)
PWM x4

Runs Linux - Preloaded!
Dimensions: 25.6 x 25.6 x 3.0 mm
Power input: 3.6V ~ 6.0V
Power consumption: 74mA WiFi standby, 230mA WiFi full speed, 5V input

QUICK START
Attach 3.6V ~ 6.0V and GND to a stable power source, such as a USB charger.

DO NOT SUPPLY MORE THAN 6.0V as that will damage the VoCore2.



The SSID "VoCore2" should be accessible from other devices within 30 seconds of applying power.

Connect to the SSID "VoCore2" from a wireless device (phone, computer, laptop, tablet, ODROID, etc.)
Use one of the following two methods to connect:

1. Open an SSH terminal ("ssh" on Linux/Android, "PuTTY" on Windows, etc.) and log in to "VoCore2" (user: root, pass: vocore)
2. Using USB2TTL, please check the manual in the LINKS section below.

NOTE: UART speed is 115200bps, 8bit, no parity, 1 stop bit.
The VoCore2 is now in AP (Access Point) mode. It is possible to put the VoCore2 in AP + STA mode, which allows the VoCore2 to connect to a wireless hotspot (AP) and provide wireless access from that hotspot to anything connected to the AP and Ethernet port.
In order to setup AP + STA Mode, run the following commands in the console after connecting to the VoCore2:
;Enter your AP SSID


uci set wireless.sta.ssid=[HOME AP SSID]


;Enter your AP PASSWORD


uci set wireless.sta.key=[AP PASSWORD]
uci set wireless.sta.network=wwan
uci set wireless.sta.disabled=0
uci commit
/etc/init.d/network restart


;note: better to set sta to disabled, so next boot if you VoCore2 can not connect to your home ap, you will still able to connect to VoCore2 hotspot.


sleep 10
uci set wireless.sta.disabled=1
uci commit


;wait around 10 seconds, your VoCore is in AP+STA mode




;note: you might need to setup network to enable dhcp(get ip from your hotspot).


uci delete network.wwan
uci set network.wwan=interface
uci set network.wwan.proto=dhcp
uci commit


;note: you might need to setup firewall to enable access to internet through your hotspot.


uci del_list firewall.@zone[1].network=wwan
uci add_list firewall.@zone[1].network=wwan
uci set firewall.@zone[1].input=ACCEPT
uci set firewall.@zone[1].output=ACCEPT
uci set firewall.@zone[1].forward=ACCEPT
uci set firewall.@zone[1].masq=1
uci set firewall.@zone[1].mtu_fix=1
uci commit
More tutorials can be found at
http://vocore.io/v2.html
APPLICTIONS

NIC
AP/Router
Embedded Applications
LINKS