New Product: ODROID-M1
The ODROID-M1 is a single board computer with a wide range of useful peripherals developed for use in a variety of embedded system applications. The newest from ODROID offers 4GB and 8GB of RAM. Check out the M1 and accessories here.
| | | | |
| --- | --- | --- | --- |
| A | Rockchip RK3568B2 CPU | N | 1 x Mono Speaker Output (1.3W at 8Ω load) |
| B | LPDDR4 RAM | O | 1 x Power Button 1 x SPI Boot Select Switch |
| C | 1 x Micro USB2.0 Device only | P | 1 x SPI Flash 16MiB |
| D | 1 x RJ45 Ethernet Port (10/100/1000) | Q | 1 x eMMC Module Socket |
| E | 1 x HDMI 2.0  | R | 1 x IR Receiver |
| F | 2 x USB 2.0 | S | 1 x RTC Backup Battery Holder |
| G | 2 x USB 3.0 | T | 1 x Jumper |
| H | 1 x DC Power Jack | U | 1 x Micro SD Slot |
| I | 1 x M.2 NVMe M-Key PCIe3.0 2-Lane | V | 1 x SATA3 |
| J | 40 x GPIO Pins | W | 1 x SATA Power (5volt only) |
| K | 1 x MIPI CSI 2Lane | X | 1 x UART for System Console |
| L | 1 x MIPI DSI 4Lane | Y | 2 x System LED Indicators |
| M | 1 x 3.5mm Headphone Jack | Z | 1 x M.2 LED Indicator |
The CPU has four ARM Cortex-A55 processors with low power consumption and high efficiency operation at 2Ghz. The CPU and GPU performance is quite similar to our ODROID-C4.

A larger 8GB of LPDDR4 DRAM Memory is available while there is also a 4GB model for reduced cost.

Petitboot pre-installed into the on-board 16MiB of SPI-Flash Memory helps manage various OS and kernel versions easily and supports booting from microSD, eMMC, NVMe, SATA, and USB storage devices. In addition, since on-line OS installation using a network is possible, the cumbersome procedure of downloading and flashing an OS image is dramatically reduced.

A standard size 42mm M.2 NVMe storage device can be directly installed on the ODROID-M1 board. The M.2 connector has PCIe 3.0 2-lane configuration which can deliver a blazing fast 1600MB/sec of sequential access performance. Note that M.2 SATA storage devices can not be used. The M.2 slot supports only a PCIe interface (M-Key).


| | | |
| --- | --- | --- |
| Benchmark | ODROID-M1 (PCIe 3.0 x 2) | RPI CM4 (PCIe 2.0 x 1) |
| fio 1M sequential read | 1646 MB/s | 416 MB/s |
| iozone 1M random read | 1049.13 MB/s | 210.97 MB/s |
| iozone 1M random write | 1163.95 MB/s | 188.70 MB/s |
| iozone 4K random read | 43.73 MB/s | 14.77 MB/s |
| iozone 4K random write | 96.90 MB/s | 25.38 MB/s |
A single native (non-USB) SATA 3.0 port is provided for use with a 2.5inch HDD or SSD NAND Memory storage device. This SATA interface delivers near 500MB/s of sequential access. The SATA Mount and Cable Kit contains a SATA Data cable, a SATA Power cable, and a mount plate with some support screws. However, since the SATA power port doesn't have a 12 Volt power rail, a separated external 12 Volt SATA power supply is required to use a 3.5inch HDD.
The four-lane MIPI-DSI port can be directly connected to a LCD panel. The ODROID-Vu8M kit with a 8inch 800×1280 wide viewing angle LCD and capacitive multi-touch screen is an available option. If you assemble the ODROID-M1 single board computer on the rear side of the Vu8M kit, you can easily implement a Human-Machine-Interface (HMI) device.
The two-lane MIPI-CSI port can be directly connected to a camera sensor module. Our M1 MIPI-CSI Camera Kit has an OV5647 sensor chip which can capture up to 5 Mpixel images and 720p/30fps video streaming. You can get reasonably good imaging whether it is in the daytime or at night thanks to the automatically switchable IR-Cut filter and two IR Lights. Realtime image inputs from the MIPI-CSI port can be widely used for Machine-Learning applications.
Since Machine Learning has been a trend in this industry, there is a neural network processing unit (NPU) which can deliver up to 0.8 TOPS on the M1 single board computer. We could run various TensorFlow Lite and ONNX models on Ubuntu Linux OS. Here is an example of object detection.


When measured performance of AI software, the yolov5s.onnx model with a traditional CPU+FPU+NEON combination took ~1800msec while the NPU acceleration only took ~60msec. Another example is the mobilenet_v1_1.0_224.tflite model that showed ~286msec vs ~7msec. According to the test results, we can say the internal NPU hardware acceleration presents 30~40 times faster AI computing power in some use cases. We will provide instructions for NPU development via our WiKi pages soon.

A sleek and cool blue M1 Metal Case Kit is an available option to protect your ODROID-M1 board. The metal cover is made with aluminum extrusion that has an abrasive blasted surface texture and anodized blue finish. It can be securely docked to the ODRID-M1 heatsink frame via sliding slot. The front and rear side covers were made with gold plated PCBs.
Power consumption and heat characteristics: Without any external peripherals connected, the M1 power consumption is about 4.5Watt with a very heavy computing load. It could be as low as 1.3Watt in the idle state.

We also captured the power consumption transient during the booting process with our SmartPower3 equipment. Full Ubuntu Gnome desktop booting might take about 30~35 seconds (including a few seconds of Petitboot delay) when an eMMC module is the boot media. After completing the booting process, the average idle mode power is around 1.3Watt. In the shutdown mode, the power consumption is around 0.05Watt which could be considered negligible.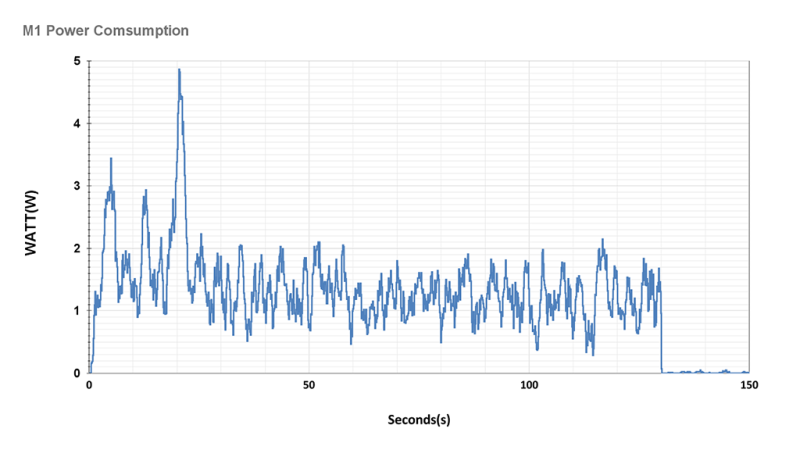 Thanks to the huge heatsink frame, the thermal characteristics look quite good with very heavy CPU computing load. The CPU core temperature was near 50°C with a heavy computing load at a relatively high 35°C ambient temperature. This is very far from the thermal throttling trigger point, and the ODROID-M1 can run in various embedded application environments without noisy active cooling.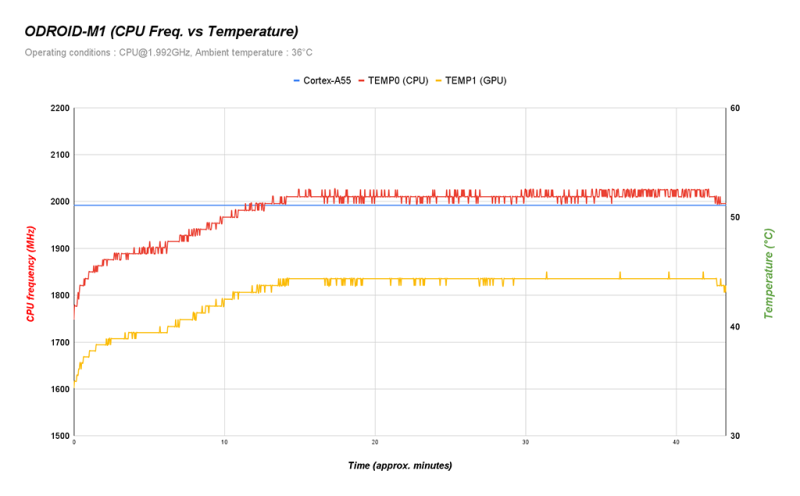 Analog audio output sound quality: There is a 3.5mm stereo headphone jack on the M1 board. It presents an on-board high quality 384Khz/32bit stereo audio output. Dynamic range and SNR is near 100dB and Total-Harmonic-Distortion is lower than 0.006%. You can enjoy Hi-Fi sound quality without an expensive external audio DAC. We have measured the sound quality with Audio-Precision equipment as usual.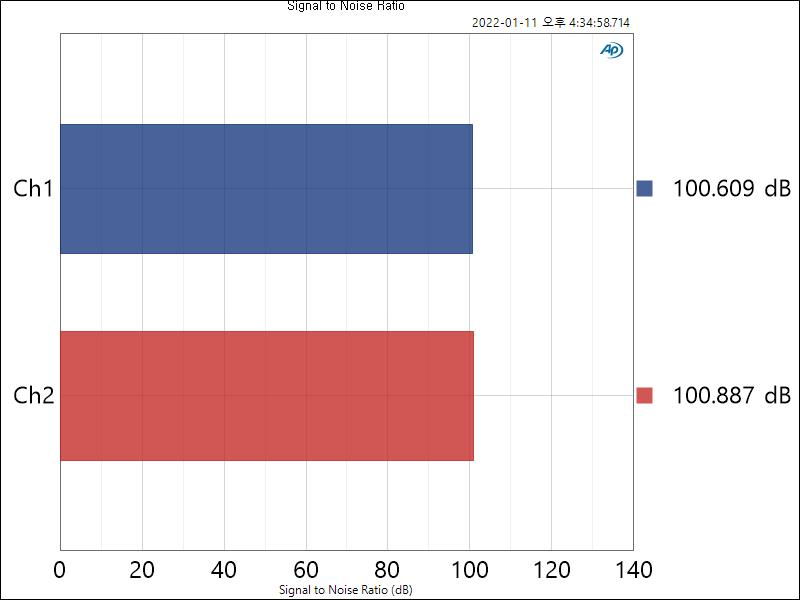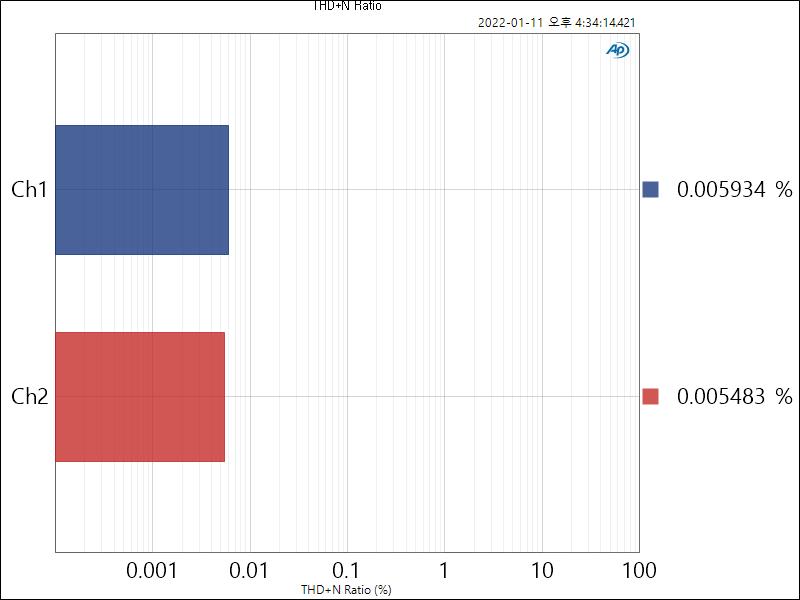 SOFTWARE SUPPORT
Ubuntu 20.04 LTS & 22.04 LTS

Kernel 4.19.219

Wayland based GNOME desktop

Mali GPU EGL driver on Wayland

MIPI DSI and CSI drivers

NPU drivers and Neural Network APIs

GPIO drivers and WiringPi library

Mainline kernel will be available several months later with Panfrost driver hopefully

Android 11 Red Velvet Cake

Kernel 4.19.193

Dual head display feature : HDMI and MIPI-DSI at the same time
Get notification about new blogs by subscribing here.